Types of Employee Incentives You Should Know About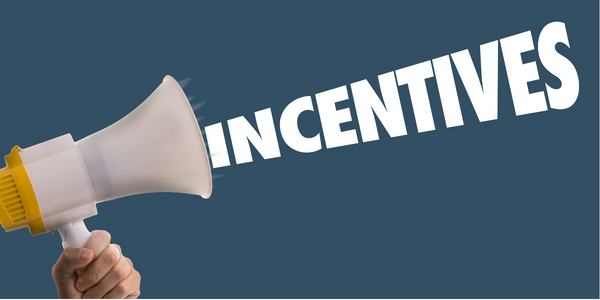 Types of Employee Incentives You Should Know About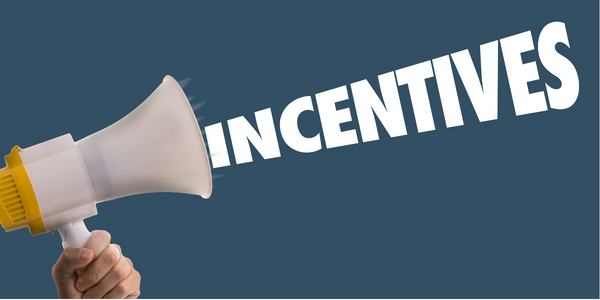 Workplace incentive is crucial to express appreciation for work well done by employees. It is imperative, however, that employee incentive programs are strategically designed and implemented. If your employees are happy with the incentives, they will stay motivated, their productivity levels will be consistent, and the workplace will transform into a desirable place to work. Such happy vibes within a commercial establishment are good for the overall wellness of the employees as well as to help boost business profitability. 
The big question is, "what is the best incentive plan for employees?" Cash or non-monetary incentives? While this question has a subjective answer, overall, it has been seen that incentives of four types drive the best results. These are recognition, cash rewards, gifts, and experiences. Examples of gifts, in this case, are electronic items, gift cards, discount vouchers, etc. Experiences are things like tickets to sporting events, concerts, offsites, etc. 
Continue reading to know about the different types of employee incentive plans.  
Types of Incentives for Your Employees
 Broadly, these are the four main types of employee incentives:  
1. Compensation Incentives
These are also called monetary or financial rewards. There's no doubt that for employees, financial compensation occupies the highest place in their motivational ambit. These are some of the common examples of incentive programs of this type: 
Salary incentives: Offering higher remuneration to employees that are more productive and bring better results. This is one of the commonest types of employee incentives. Annual increments are a common feature in most companies across the world. Employees that achieve or over-achieve their targets are given handsome pay rise showcasing to others that hard work pays.

 
Profit-sharing: If you want to retain your best talent, consider sharing your profits not just with your shareholders but also with your top productive employees. This is an excellent individual incentive plan example

. 
Shares: Many top companies in the world offer their best-performing employees shares of the organization. This is also popularly known as ESOP or Employee Stock Options Plans. HDFC Bank in India is a leading example – it recently announced offering about 

4,173,730 equity shares to its employees this year. This is an effective

management incentive plan example

and is used quite widely to motivate managers.

 
Bonuses: Another common form of individual incentive are the annual bonuses given to employees with the best performances. Some companies offer monthly or quarterly bonuses too. There are festivity-related bonuses also like in India, Diwali bonus is a very common feature.

 
Commissions

:

Commissions are given as a certain percentage of the sales value to employees who have generated maximum sales within a given timeframe.

 
Retirement incentives: In India, the most common retirement incentives include provident funds and pension schemes.

 
Dearness allowance: In most cases, dearness allowances are given by government offices to their staff members to combat inflation. This is an additional amount over and above their salaries.

 
Fringe benefits

:

Some companies offer fringe benefits to their best-performing employees like paying the education fees of kids, medical benefits for employees, etc. In this context, companies like Microsoft and Google are companies with the best incentive programs.

 

2. Recognition Incentives

 
As the name implies, 'recognition' is taking cognizance of employees who have worked hard to achieve or over-achieve their targets/KRAs. In a survey conducted by Michael C. Fina Recognition, amongst about 300 HR professionals, it was revealed that workplace recognition is a big thing for employees though it costs barely anything to the company. Your recognition programs do not have to be lavish – small and simple things can make a huge difference. Here are some types of employee incentive schemes that recognize employees for their work:  
Delegation: Making your employees responsible for their tasks makes them feel valued. 

 
Authority: Do you wish to make your top-performing employees feel empowered and motivated? Give them authority – let them be a part of the decision-making committee for the next project. Ask them for their ideas and suggestions during meetings.

 
Thanking Employees: 'Thank You' has a big effect on employees who prioritize work and deliver to expectations. Patting the back of an employee who has done it makes a lot of difference to the person at an individual level. Such expressions of gratitude should be a common feature in organizations and should be multi-directional. Managers saying thank you, peers and colleagues saying well done, etc. are all examples of this.

 
Certificates: Offering certificates is another way of acknowledging good work by your employees. Things like 'Employee of the Month', and 5-year or 10-year completion certificates matter a lot and are great individual incentive plan examples.

 
Promotions: Promoting employees who are consistently performing in the top few not just motivate those individuals but also sets examples for others.

 

3. Reward Incentives

 
Some organizations offer tangible rewards instead of monetary incentives.  
Some good choices of reward incentives include: 
Paid Vacations: Another common type of employee incentive plan is sending the employee and his/her family on a paid vacation to acknowledge their hard work.

 

Gift Cards: Companies offer gift vouchers and cards to their employees to reward them for their dedicated work. These can be festivity-related or otherwise.

 

Gifts: A bouquet of flowers, chocolates, cakes, etc., are other ways to show that you care for your employees who give their 100% to work.
4, Activity Incentives
This type of incentive is meant for teams where the organization conducts events or activities to express its gratitude for teamwork, collaboration, and achievements. Some common examples of different incentives for employees in this context are: 
Celebrations: Many organizations throw parties or short trips to celebrate certain milestones. It helps your employees feel important and rewarded boosting their morale.

 
Birthdays: Celebrating the birthday of employees is a great way to make them feel valued and cared for. It gives a lot of boost to the employee.

 
Paid Lunches: Once-a-month lunches on Fridays are another way of encouraging teamwork and also letting your employees know that the company cares for them.

 
Conclusion
No matter which employee incentive program you choose, you must take the extra effort to ensure that these programs excite your employees. Another key bottom line for ensuring the success of the incentive program is to ensure that the rewards are given only for meeting employee targets. It is never advisable to dilute the essence of such programs by utilizing them for non-performance-related occasions like birthdays, etc. 
My Incentives is a one-stop platform that integrates end-to-end all tasks related to employee and channel sales incentives. Call us for a demo to know more about the features of this new-age online software and keep your employees motivated in a hassle-free manner. 
Employee Engagement is top of mind for leadership teams, and companies are willing to find ways to keep their employees engaged and motivated as time and again it is proved to lead to employee productivity. 
How many times an employee participates in any group activity alone doesn't signify the employee's engagement (EE) at the workplace. It is related to the employee's commitment to the company. And this is one of the driving factors for the success of the business. 
Employee Experience (EX) on the other hand is a total of all the touchpoints an employee has with the company – be it cultural, physical or tech-enabled interactions with the workplace or work environment. It begins from the day the employee becomes a candidate in the organization until they become an alumnus. 
Employee engagement is the byproduct of employee experience; hence, the company needs to actively shift its focus to employee experience which will eventually lead to higher engagement. 
How technology is changing the future of work
Technology is shaping the future of work in every little segment at the workplace be it Robo advisory in finance, client relationship management (CRM) and cloud software in Sales or Artificial Intelligence (AI) and Machine Learning (ML) in Marketing and e-Commerce,  and in the more recent years the role of AI in different areas of human resource. 
Advancement in technology at the workplace is not just about reducing human dependency and speeding up the work but also making work systematic and error-free. Though AI is taking over human dependency it does not mean that it is taking away the job. Employees will have to shift their focus to value-added activities to get a better result and improve productivity; while technology takes over the repetitive and mundane tasks. 
We at Buzzz agree that 2020 is the rise of the digital workplace and there is no looking back. Where physically the world has come to a standstill, the digital world has helped to keep things going and helped everyone to stay connected. 
Role of HR in employee experience and employee engagement
Hiring, firing, recruiting and training employees have been the most prominent role of Human Resource and is often known only for these responsibilities, but a silent and more important role of HR has always been to enhance employee experience at every stage of the employee's work-life. This leads to employee engagement and therefore builds a strong workplace culture. 
Culture is built by understanding the needs of employees, learning about the values of employees, supporting them to reach their corporate goals, rewarding them for their efforts that help the organization achieve their mission, and ensuring all the resources are available for employees to enable them to have an extraordinary experience. 
Here are 5 ways in which AI can positively help you boost employee engagement and experience:
While some organizations use certain metrics to gauge employee engagement, companies will have to understand that one metric won't fit or apply to every employee. 
AI helps organizations to make rational decisions and change the way a company approaches engagement at the workplace. It also supports companies' work towards providing a great employee experience  with user-friendly software.
-Improve internal communication
Interpersonal communication at the workplace plays an important role to define our relationship with our colleagues. 
Artificial Intelligence has the power to evaluate each employee's strength, weakness, style. With the help of AI, organizations can track the relation and coordination between employees and get key insights about how each employee interacts with each other. Organizations can use it to their advantage by pairing employees together who make a great pair for a particular project based on the SWOT analysis. 
Chatbot at the workplace can make employee communication more interactive and collaborative. One of the most common examples of chatbot cases is Starbucks who uses Facebook Messengers in their order and delivery process. (Source: SHRM)
-Monitor mental health
A machine to track or monitor the behaviour of your employees that help organizations learn about their mental health and raise an alarm before it's too late will be one of the top finds of technology. There is research underway that could monitor an employee's enunciation and tone of voice to detect stress and predict depression. Monitor the typing speed, detect the spike in heart rate and also analyse facial expression, but then again this is the future. 
Companies like Sephora and Pinterest offer a chatting platform to their employees that instantly offers them direct counselling service. The employee types a word based on their feeling and the platform uses the word to understand their situation and recommends the best approach to coach employees. (Source: Roboticsbiz)
Similar to this, the Mood-o-Meter, an AI-based tool helps to track the mood of employees and calculate their happiness index. Our feelings influence our behaviour and that has a big impact on our day at work. The Buzzz Mood-o-Meter is designed to help an employee learn to recognize their emotions and develop strategies for managing these emotions. Likewise, organizations can analyse the daily mood of their employees and also find reasons behind their mood. 
For example, if the majority of employees feel unhappy highlighting one particular reason prompts HR and organization to immediately take some action to find a gap in their work culture. 
-Recruitment & onboarding
From saving valuable time to finding the right candidate, AI can simplify the recruiting and onboarding process for HR.  AI pre-screening of the candidates before inviting them for interviews is a common practise at large multinational companies who hire thousands of employees each year and unsurprisingly attracts millions of applicants. 
AI in recruiting helps access candidates before they are invited for the interview where they are tested and assessed on their cognitive and emotional features while avoiding demographics like race, gender and socio-economic status. 
Multinational brand Unilever uses a chatbot that uses natural language processing to answer employee's queries and questions in a simple, human language. 
-On-the-job training
Well, learning doesn't stop after you are placed in the organization. In fact, it begins from there where employees can learn new things that will help them in work. AI plays a part in the ongoing training of the new hires as well as for the existing employees in future. 
One of the engineering giants developed a tool which takes advantage of augmented and virtual reality along with AI to record the experience of work and lessons from existing or old employees which can be passed on to new joiners. This captures the correct and valuable information that can be used anytime and gives a top-notch experience to employees. 
-Improving remote work
Earlier where remote working was mainly associated with tech jobs where coders and engineers would work on projects from home or other areas without coming to office every day or never. Now, remote working has become a new normal for a majority of white-collar jobs globally. It can also be framed as displaced working where managers struggle to monitor and encourage employee productivity. AI is applying data power to streamline operations, enhance communications and improve services. 
Under remote working, AI amalgamates legacy systems like CRM and AI planner helps employees significantly improve data handling, planning and customer retention.
One very recent example is a collaboration of Otter with Zoom where otter automatically transcribes your zoom meetings as they happen. The notes it generates can include text, audio, video or key phrases which can be searched later. It also includes the speaker ID of all the participants involved in the meeting to see who said what. This saves the time of noting down the meeting notes. Accenture also uses this AI-backed tool at their workplace. 
Conclusion:
HR and AI are joining forces to understand employees better and transforming the employee experience at work at different levels. The idea is not just to minimize manual work but also to enhance employee experience that leads to an increase in productivity and efficiency. 
AI also finds the gap where employees are struggling or are unable to connect with the company and underline the area for management to take immediate actions ensuring that employees are engaged throughout their professional journey with the organization.